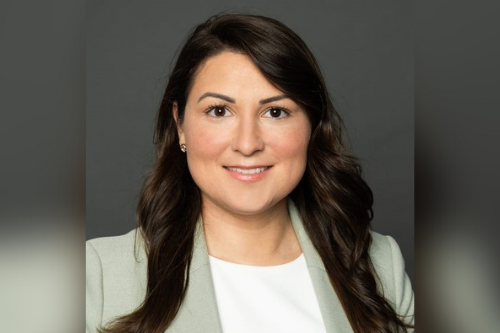 Although her family questioned her decision and pushed her to find a higher paying job in the US, Larsen said she stood firm because she "felt in my gut that the advice was"'does not fit to me."
"I've seen the medium to long term – I've seen it as something that would take me to where I really wanted to be in three to five years. I thought about the bigger picture and the wider possibilities. "
And from Mexico City to New York, Brazil, India and now the Slovak Republic, Larsen has never looked back. She's been fortunate enough to grow with the company for the past decade, and while she got into the industry by chance, what Larsen likes about reinsurance is the fact that you can see what your work is doing for the larger ecosystem, especially for the sustainability of communities. She shares that the greatest reward in insurance and reinsurance is to be part of something that "ultimately drives it forward and has a noticeable impact."
"It's worth what we all do," she said.
Rolling the dice with her first role at Swiss Re taught Larsen an important lesson: there will be times when you might want to do something that feels unpopular or doesn't go down well, but when something inside tells you it's right for you She is, do it anyway. The greatest risks and greatest rewards in her career and personal life have come after listening to her gut instinct, and while the journey is not the same, she would advise that it all comes down to making choices that nurture authenticity.
"Be very brave to take these risks and be happy with your decisions," said Larsen, adding that while you ultimately make your own decisions, it is also important to make sure that you do'You learn from those around you.
Throughout her career, Larsen has benefited from having strong female leaders and allies in her corner who provided a safe space to discuss ideas and challenges and share their insights and advice with her. The whole experience "has always been very empowering," said Larsen, and Larsen, now a female leader herself, is looking for ways to pass it on, including by giving her voice to the upcoming Women in Insurance Chicago event.
"Ultimately, our collective strength is really the most important element that emerges from such events," said Larsen, who speaks on the panel discussion on "Choosing Resilience," a session with industry leaders who share the moments, the resilience needed and the skills they are for needed their success.
For Larsen, a "super healthy" balance between work and private life is one of the key components of her resilience. In a managerial position and as a young mother of a three year old, she tries "to be active and present in my relationship and in my home as a mother – but also to promote my career". While the idea of ​​balance is different for everyone, the most important point is not to be ashamed of how it looks to you.
"I often find that women secretly find what balances them but don't want to share it with others," said Larsen.
For example, they are afraid of saying that they need a longer lunch to function optimally, or they want to go to the gym early because it makes them feel important. They hope it happens, "instead of telling the outside world that this is how I handle it, it feeds me and I'm really proud of that," remarked Larsen.
"I make sure that I am able to switch off completely and find time to recharge so that I am fully present in every place I am – whether I am a mother, wife or a manager – and not in the background above everything others think about things that I could do. "
As a leader, your own ideas and inspiration can be absorbed by those around you, said Larsen, and when you've worked with a strong and resilient leader, that energy has passed on to them. She does not take the impact a leader can have for granted when she demonstrates this powerful approach and combines it with a willingness to engage in open dialogue with others.
"We see these kinds of elements in executives around us all the time, and it's just one of those topics that I really connect with," said Larsen. "When I speak in the session, I hope that someone else will hear it in the same way."
Learn about Danielle's approach to being brave and resilient, both in your career and at home, on August 31 at the Women in Insurance Chicago event.