1. True freshmen who have already made an impact.
Week Zero only had a handful of games, but it took little time for some true freshmen to make an immediate impact. Here is a look at how some of the class of 2023 standouts performed and a look at how they were rated as recruits.
Zachariah Branch, WR, USC: Talk about kicking your college career off with a bang. Branch received rave reviews for his potential leading up to a Week Zero contest against San Jose State, and he did not disappoint. In fact, Branch is leading the nation in all-purpose yards with 232 in total after one game, The freshman phenom's stat line included one kick return for 96 yards and one TD, four receptions for 58 yards and one TD and one rush for 12 yards. Branch was a five-star and the No. 2 wide receiver in the 2023 class for a reason, and although his performance came against an overmatched San Jose State team, this is a debut that should – and will – be remembered for a long time.
Jaden Greathouse, WR, Notre Dame: Like Branch, Greathouse lived up to his lofty ranking right out of the gates with a two-touchdown performance on three receptions for 68 yards. While the Austin (Texas) Westlake receiver didn't reach five-star status he was right on the brink as the No. 17 receiver in the 2023 class. With Sam Hartman under center for the Irish, this could become a weekly trend moving forward.
Jeremiyah Love, RB, Notre Dame: The four-star running back out of St. Louis Christian Brothers didn't have a mind-blowing stat line, but he proved he could very well be the player we predicted he would be with an explosive 40 yards rushing on only four carries. The thing you love most is that he did this as a true freshman, playing his first game in a different country. And although his opportunities were limited he capitalized on them. Love is a big back with game-breaking speed. Should he continue to make the most of his opportunities like he did in Dublin over the weekend, this could be a preview of what could potentially be a great career in South Bend.
Jeremiah Vessel, safety, New Mexico State: This spot could have easily gone to USC tight end Duce Robsinson as he lived up to the recruiting hype in his first game as a Trojan. But I had to give some love to a defensive player, and that is none other than Vessel, a former Las Vegas Bishop Gorman standout. The freshman safety was extremely disruptive in his debut while making plays at every level of the defense and finishing with a stat line of three tackles, two of which were tackles for loss – along with a pass breakup – in his debut. It could be argued that Vessel should be playing for a Power Five school, but it seems like he found a great home that also gave him an opportunity to make an early impact in New Mexico State. Vessel was one of only two of the Aggies' true freshmen rated above two-stars, and he is on his way to outplaying his rating right out of the gate.
*****
2. Offensive-minded head coaches and their greater impact. 
There is a long standing and rarely discussed belief (outside of defensive staff rooms) that extreme offensive-minded head coaches who also coordinate will never win a national championship in the modern era. This isn't a statement about offensive-minded head coaches in general, or even those who choose to call their own plays as many have proven capable of winning games because of their the ability to score points. We have seen coaches such as Mike Leach, a favorite of mine, turn perennial losers into winners via their offensive acumen and style of play. Additionally, points win games and high-scoring contests make the game fun while simultaneously putting fans in the stands.
Is it possible to turn a losing program into a winner quickly via offensive acumen? Absolutely. Offense wins games, but offensive obsession does not, and in my opinion offense alone will never win national championships. I'm specifically referencing head coaches – those who some defensive coaches in particular – would call the extremists. The coaches who build their entire program around their own offensive acumen, recruit with an offensive mindset, plan practice around their offense and care more about scoring points than building and sustaining a championship caliber program. The type who live and die by the stats they put on the board above all else and are wiling to hang their own defense and defensive coaches out to dry because of an extremely flawed belief that their offense alone will bring home a title.
One could argue Urban Meyer did it, but he saw the bigger picture and cared about winning more than his offense. Steve Spurrier is probably the closest we have seen in the modern era, but his 1996 championship was pre-BCS or CFP. Which brings me to the elephant in the room, Lincoln Riley and USC. Something is going to have to change if Riley is going to bring a national championship back to USC. Look at every national champion since the BCS era began and not once have you seen a team led by an offensive extremist bring home a national championship trophy.
In fact, since the inaugural season of the College Football Playoff in 2014 there has only been one head coach with previous experience as an offensive coordinator to bring home a national title. Players, culture and well-rounded teams win titles, not offensive play calls and the mastermind behind them.
*****
3. Three high school recruits on the rise.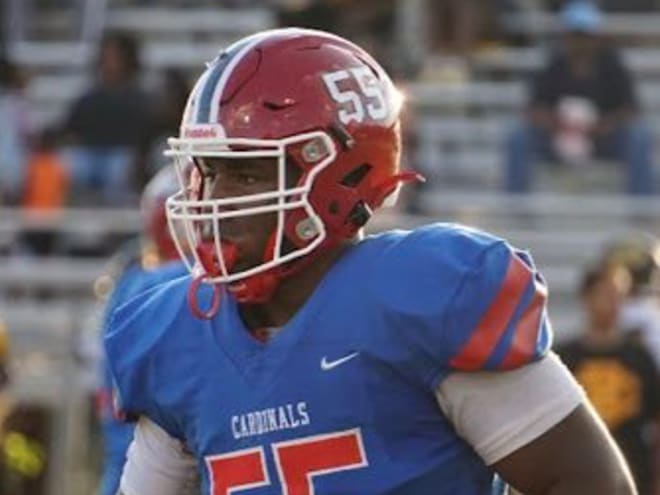 Francis Brewu – The Pitt defensive line commit has often been talked about as an underrated player in rankings meetings and it is safe to say that after seeing him perform this season, that is likely the case. Through two games Brewu has racked up an eye-popping stat line for a defensive tackle with 18 tackles, eight tackles for loss, 2.5 sacks and numerous quarterback pressures. Nine tackles a game from a defensive tackle is rarely heard of, and if that wasn't enough, his eight tackles for loss is the ultimate testament to how much of a disrupter he is in the trenches. The 5.6 three-star will be in the four-star conversation moving forward and college coaches are also taking notice with Miami becoming the latest school to offer since season's start.
Jeremiah McClellan – As the nation's No. 97 player, McClellan already has a lofty rating, but I'm still not sure if that is high enough for the Ohio State commit. He performs at an elite level time after time and I have yet to see him not rise to the occasion. As a 5.9 four-star there isn't enough buzz about him when it comes to the five-star discussion and although he doesn't possess a trait that separates him from every other player at his position, McClellan has little weakness in his game. He could be the most complete receiver with the highest floor in the 2024 class.
Isaiah Marshall – The Kansas commit isn't going to blow you away physically or with his arm talent, but at the same time he can flat out play and is surgical with the way he picks apart an opposing defense. The interesting thing about Marshall is that while he plays like a pro-style quarterback he has run sub-11 seconds in the 100 meters, making him more dynamic and dangerous than many assume. Marshall is one to keep a close eye on this season, because if he continues to perform like he has thus far, we will be hard pressed to not give him a ratings bump.


Source link

Clint Cosgrove, National Recruiting Analyst