From being ranked in the Rivals250 to the way he performed on Sunday, Brown is similar to fellow cornerback Kevyn Humes in many ways, just one year older. The Fredericksburg (Va.) St. Michael corner has good size, excellent overall athleticism and is extremely physical when playing press man coverage. He wowed with his ability to shut down nearly every receiver that tested him on the day, and in the rare instance that a receiver was able to get their hands on the ball during 1-on-1s, Brown was there to disrupt the pass for an incompletion.
The overall performance was so dominant that you almost had to see it in order to believe it, and we wouldn't be surprised to see a number of schools attempt to flip the NC State commit as we close in on signing day.
*****
Carroll needs to build up his strength, but he moved really well during the drills and in 1-on-1s. He is nearly 6-foot-4 with a wingspan of 82.5 inches. Carroll has a chance to see his recruitment pick up momentum once college coaches are able to see how agile he is and how much room he has to fill out his frame. Right now he only has an offer from Temple, but many other schools have turned up the heat.
*****
The long and lengthy receiver from Connecticut currently sits as a 5.6 three-star recruit, and while he has a few Power Five offers it doesn't seem like he has enough after seeing him on Sunday. From his frame to route-running ability and ball skills, there is just so much to like about Clawges, and he is a recruit likely to garner a lot more attention with college camp season right around the corner.
Iowa, Penn State and Syracuse have already offered, and we would be surprised if additional Power Five schools didn't enter the mix in the near future.
*****
Cole was one of the more physically impressive recruits in attendance at Sunday's camp and it only took a couple of reps during drills to see why he has become a priority target for a number of the nation's elite programs. He pairs his lengthy frame with a ton of athleticism, twitch and a level of physicality that quickly became apparent despite it being a non-padded camp setting. The sky's the limit in terms of his upside, and Cole will definitely be in the four-star conversation in our upcoming rankings meetings.
Penn State, Notre Dame, Georgia and Miami have already locked in official visits. Look for Maryland, Texas A&M and others to also compete for official visits and a pledge from Cole.
*****
Duff is a matchup nightmare for defenses, thanks to his size and speed. The 6-foot-5 tight end has an 81-inch wingspan and 33.75-inch long arms, so he can reach pretty much block any pass quarterbacks throw in his direction. The New York native also has the speed to outrun any linebacker responsible for guarding him. Duff's mid three-star rating will certainly change in the next rankings update. He has official visits scheduled to Rutgers (June 2) and North Carolina (June 9), but there are many other contenders.
*****
Howerton has had an outstanding stretch on the camp circuit and his performance at the camp on Sunday reinforces what we've already come to realize: Howerton is underrated. He's 6-foot-7 with an 83-inch wingspan and tips the scales at 318 pounds. He is quick enough to get into his pass set and take away any outside rushing angle a defensive end thinks he has, but Howerton is also strong enough to defend against any inside rush. West Virginia (June 9) and Pittsburgh (June 23) will get him on campus for official visits next month.
*****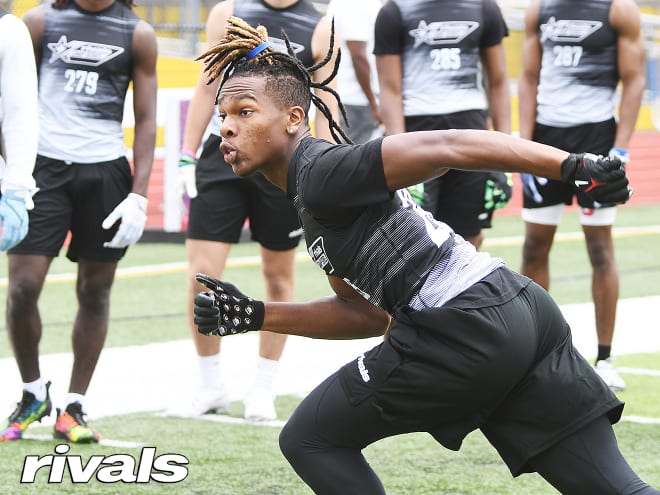 Including a Rivals250 recruit in a "Stock Report" feature can be difficult, considering there isn't a ton of room for upward movement, but Humes' performance on Sunday proved that he is a special player worthy of consideration for a rankings bump. With the size, instincts, cover skills and athleticism of a future star, Humes checks every box when it comes to what you are looking for in a big-time cover corner. He was impressive from start to finish, but it was his performance during 1-on-1s that blew us away. Humes is incredibly competitive and rarely gave receivers even the slightest bit of separation on the day, as he earned a gold ball and underclassmen pro day invite for his performance.
Humes already has over 20 offers coming from the likes of LSU, Georgia, Maryland, Oregon and Ohio State, which will be the recipient of an unofficial visit on June 6.
*****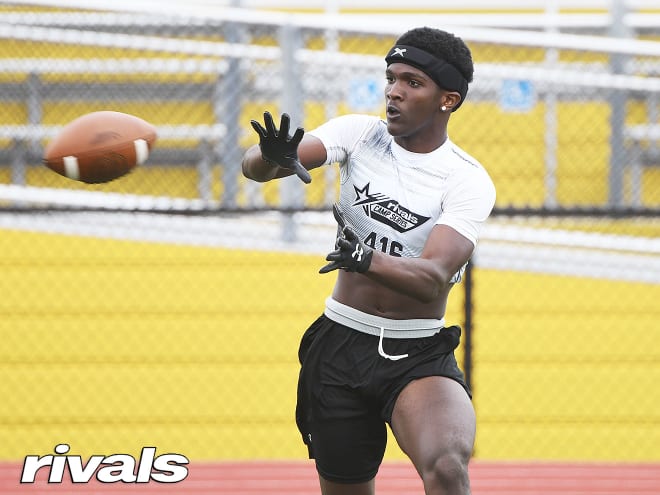 Kontosis isn't a blazer, but he is a very savvy route-runner with good burst and start/stop ability. Defensive backs had a hard time keeping Kontosis contained off the line of scrimmage. He has a solid 6-foot, 182-pound build and very reliable hands when the ball was thrown on target. A low three-star prospect right now, Kontosis will likely see a bump in the rankings.
*****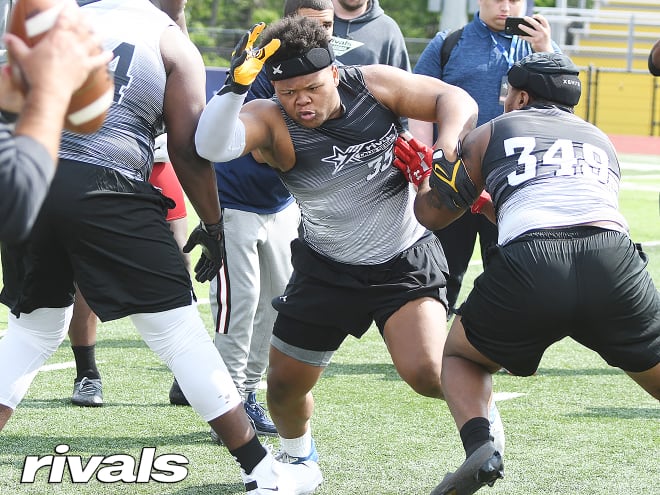 The Virginia Tech commit was nearly flawless at the camp and Laws could end up with one of the biggest steals of the class. While he is not the prototype when it comes to size, he is elite in nearly every other category and is an absolute terror for interior offensive lineman who try to block him one on one. He is explosive off the ball, extremely disruptive and has as good of hands as you will find in a young defensive tackle recruit. The Aaron Donald comparison gets thrown around a little loosely when it comes to a comp for undersized defensive tackle prospects, but Laws flashes many of the same traits as Donald and a rankings bump could be right around the corner.
*****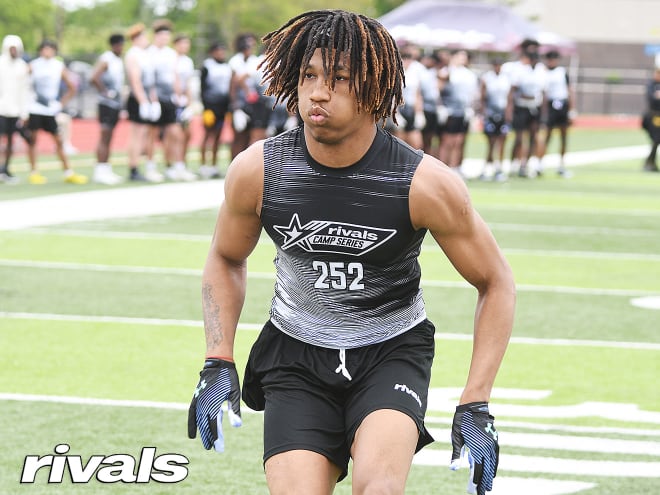 Sanders didn't participate in the full 1-on-1 session, but we saw enough to know his rating will need to be updated. The heavily recruited defensive back out of Oradell (N.J.) Bergen Catholic checked in at 6 foot and182 pounds with a 77-inch wingspan and 31.5-inch arms. Sanders also posted a 10.8-second 100-meter time earlier this month. That long speed, combined with the physical traits we saw in-person on Sunday, inspire more confidence in how his abilities will translate at the next level. Sanders is scheduled to take official visits to Wisconsin (May 30), South Carolina (June 2) and North Carolina (June 11), and he plans to commit on July 30.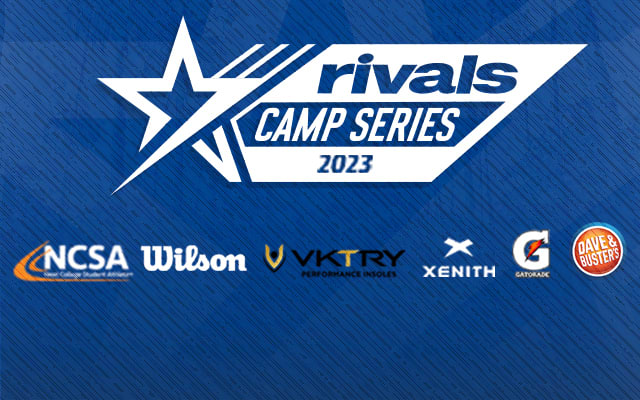 Source link

Clint Cosgrove and Adam Friedman, Rivals.com