Jump to winners | Jump to methodology
Great program partnerships
Collaboration is a key pillar of the insurance industry. The 2023 IBA 5-Star Program Administrators and Carriers awards celebrate that ethos through the mutually beneficial relationships among some of the best program administrators and carriers across the US. 
Brokers, carriers, and program administrators were all surveyed to determine the standout performers. In the end, 20 program administrators and 11 carriers were recognized for their impressive performance and given 5-Star status.
All-around operator 
RPS Signature Programs, the program administrator division of Risk Placement Services (RPS), attributes part of its success to the variety it offers. 
"The advantage of working with a larger program administrator, such as RPS, which manages multiple programs and works with multiple carriers, is not just the niche expertise; a larger organization such as ours can bring a lot of options," says Mark Williams, executive vice president of business development for Atlas General Insurance Services, an RPS Company. 
The 5-Star administrator: 
It also has 41 individual programs, including: 
RPS Atlas General Insurance Services Workers' Compensation, which has a broad underwriting appetite, flexible payment plans, and exceptional claims and loss control services  
 

Public Entity All-Lines Aggregate Package, which is a comprehensive solution for municipalities, schools, states, and other public entities and public service community organizations 
 

Construction Access Program, which is a leading nationwide specialty risk underwriting manager focusing on the crane, rental equipment and party goods dealers, and scaffolding insurance markets 
 

Golf and Country Clubs Package/Specialty Lines, which focuses on private golf and country clubs, semi-private and daily fee courses, private tennis clubs, golf management companies, homeowners' associations in gated, year-round communities, clubs, and golf associations on the national, regional, and state levels 
 

Quality Comp, which is workers' compensation self-insured group for not-for-profit social services organizations in California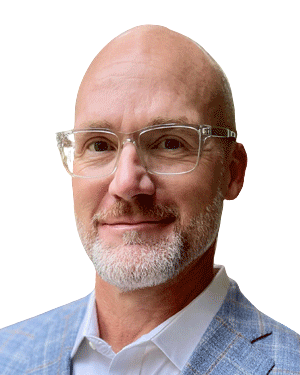 "We maintain a strong commitment to investing in cutting-edge digital technologies and enhancing our underwriting, marketing, and distribution capabilities"
Russell DuffeyRPS Signature Programs
For these, RPS Signature Programs partners with carrier winner Munich Re Specialty Insurance, which RPS ranked excellent in financial stability, carrier reputation, and program exclusivity. 
RPS has additionally honed the performance of its programs by creating a product and business development department. It identifies mutually beneficial opportunities for RPS Signature Programs among carriers, clients, and insured individuals and has, to date, transacted over $400 million. 
This is achieved by three core strategies: 
market research: both primary and secondary research to gain insights into the dynamic market conditions, needs, and trends 
 

product strategy: working closely with subject matter experts to develop comprehensive go-to-market strategies and program submissions 
 

product implementation: the project management team oversees the organization of RPS resources and ensures the successful delivery of new solutions to the market
 
However, the firm is still driving forward and looking for gains. 
"We maintain a strong commitment to investing in cutting-edge digital technologies and enhancing our underwriting, marketing, and distribution capabilities. We have made significant investments in developing a blueprint and roadmap for our future technology state," says Russell Duffey, president of RPS Signature Programs. 
And he explains how this works in practice: 
assessment: "We thoroughly assessed our current technology, processes, and organizational structure to align them with existing and future business needs, address technology risks and pain points, and adopt industry best practices."
 

technology blueprint: "We created a comprehensive blueprint outlining our vision for the future state of technology within our organization." 
 

execution plan: "We formulated a detailed plan to effectively implement the envisioned technological advancements." 
 
The results are clear and demonstrate why RPS is lauded by its industry peers. 
"Over a five-year period, the Atlas program office managed to significantly reduce the cycle time required to provide a quote or decline a decision within the purchasing window by almost two-thirds," says Duffey. "We automated 40% of the process leading up to underwriting review, while the remaining 60% was categorized into a green, yellow, and red light system." 
Despite its success and 5-Star status, the firm isn't resting on its laurels. 
Duffey says, "RPS actively identifies and evaluates opportunities to automate small to middle-market commercial businesses through our online e-commerce platform. We have determined plans to continue expanding the number of small and mid-sized enterprise programs, further accelerating our progress in this area."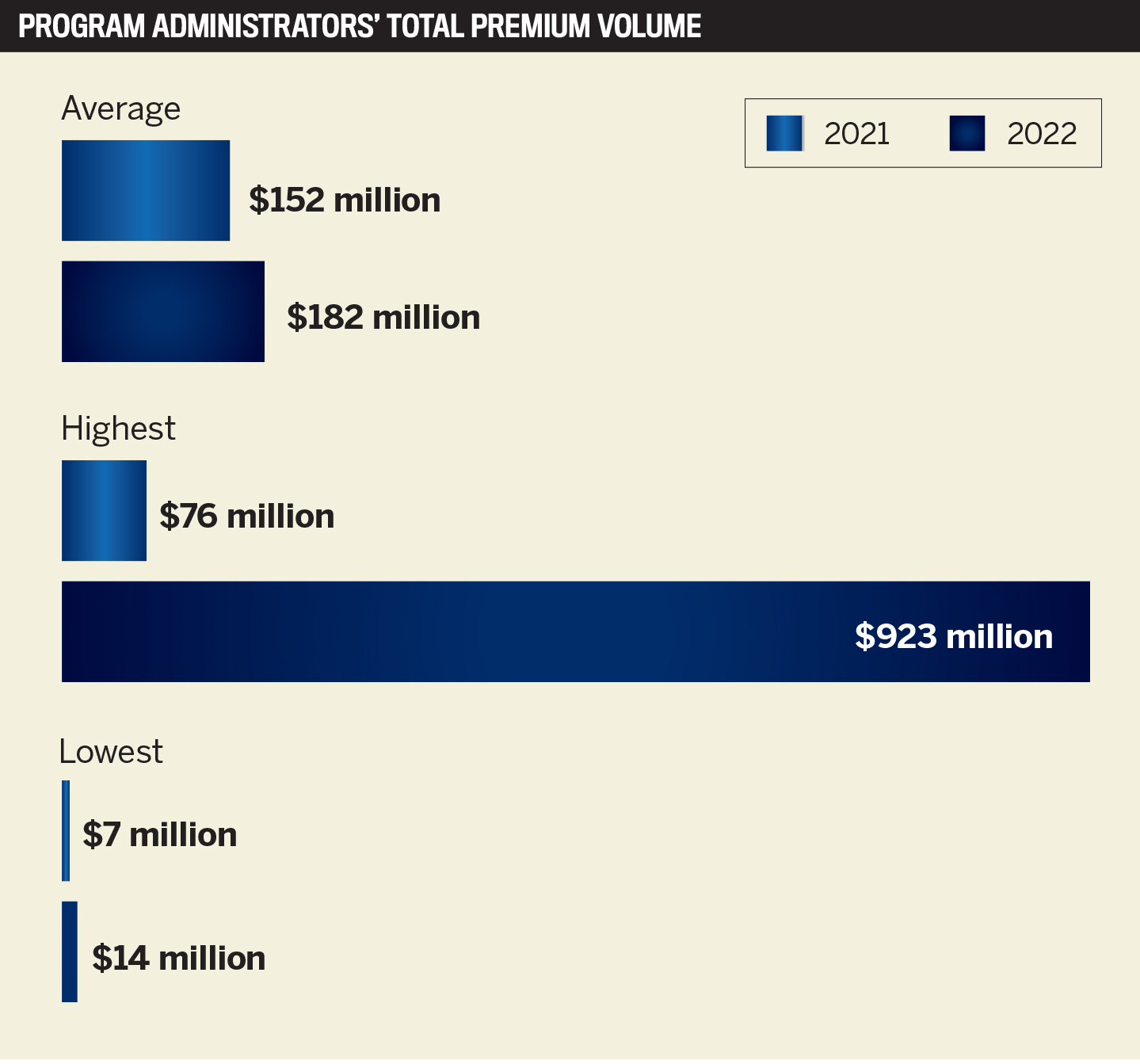 Innovative newcomer
Program administrator 5-Star winner One80 Intermediaries focuses on wholesale brokerage, national programs, contract binding, affinity, administrative services, and specialty insurance. 
The company, which was formed in 2021, 
projects $500 million in 2023 revenue
 

maintains 105 carrier relationships in the US, Canada, Europe, and Asia, approaching $1.1 billion in premiums in program business alone
 

generates 22% of revenue from program business, with 9% year-over-year growth 
 

maintains 28 cover holder agreements with Lloyds, contributing to more than $82 million in premiums
 
"The insurance industry is experiencing significant growth, driven by emerging risks and increased demand for specialized coverage," says Marisa Tranghese, director of programs. "We thrive in this environment by offering tailored solutions to niche markets. With increased market acceptance and partnerships, we are able to negotiate favorable terms." 
For its largest programs – marine, transportation, medical stop loss, cannabis, workers' compensation, and affinity – One80 Intermediaries collaborates with 130 carriers. One80 ranked them all excellent across the 10 performance criteria. 
Tranghese says, "One80 seeks many qualities in a carrier partner to ensure a successful and mutually beneficial relationship." 
The main touchpoints are: 
financial stability: strong balance sheets and claim-paying ability
 

innovative product portfolio: to provide comprehensive solutions
 

efficient, responsive underwriting processes: key to smooth operations 
 

solid reputation: for customer service and ethical practice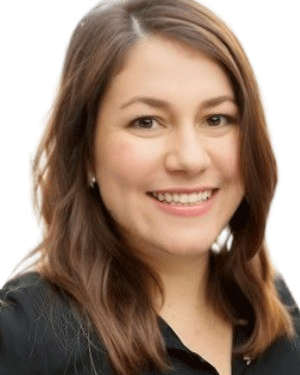 "We thrive in this environment by offering tailored solutions to niche markets"
Marisa TrangheseOne80 Intermediaries
Despite being a young company, One80 is prolific and successful in program development innovation. Its notable developments include: 
launching a charter vessel liability program with insurtech platform vQuip that provides liability coverage for individual boat renters in all 50 states. Prior to being launched, an individual renter or charterer of a boat had no means of securing liability protection for themselves as an operator of the vessel.
 

acquiring C&M, led by Eric Cheng, and cornering a gap in the market where only 5% of employees in insurance were Asian Americans. C&M revenue has grown by 8% over the prior year, with an EBITDA margin of 61%.
 

developing a Noah flood program to keep American families safe with accessible and affordable flood coverage. 
 
One80 is also using technology to boost efficiency on its operating platform, One80 Fusion. It has built a bespoke operating system in partnership with Slalom, the company's management consulting team. 
Lenika Milne, chief marketing officer, says, "The software serves as an agency management system and accounting platform, allowing internal and external users to quote, bind and issue policies and service accounts from their desk. Importantly, artificial intelligence has been core to this innovative product, and social media platforms have been built into the functionality." 
And she adds, "The result is a robust operating platform that codifies One80 processes and ensures consistency in our underwriting guidelines and customer service." 
For its cannabis MGA program, Cannasure, One80 lauded carrier winner Sutton National Group with excellent rankings. 
"Sutton Specialty has partnered with Cannasure since 2021 in support of their presence and market expansion into California and New York," says Russell J. Renvyle, chief underwriting officer of Sutton National Group. "Since May of 2023, the relationship has expanded to support the entire national footprint of the Cannasure Package Program. 
"Sutton values the partnership with a leader in the cannabis segment that has a deep understanding of the space, provides a quality product to their consumer base, and continues to operate at a profit for all counterparties." 
Tranghese says, "Working with carriers who maintain solid reputations for customer service and ethical practices is of the upmost importance for One80."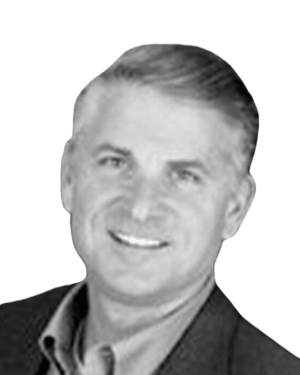 "Sutton values the partnership with [Cannasure], a leader in the cannabis segment that has a deep understanding of the space, provides a quality product to their consumer base, and continues to operate at a profit for all counterparties"
Russell J. RenvyleSutton National Group
PROGRAM ADMINISTRATORS
Amwins Underwriting
Axon Underwriting
Cannasure
Great Lakes General Agency
Norman-Spencer
Preferred Property Program
PUA
Specialty Comp Insurance Solutions
Synergy Professional Associates
US Assure
WH Brownyard
PROGRAM CARRIERS
Allianz
AmTrust
AXA XL
CNA
Hanover
Markel
Munich Re Specialty Insurance
Nationwide
Sutton National Group
Zurich