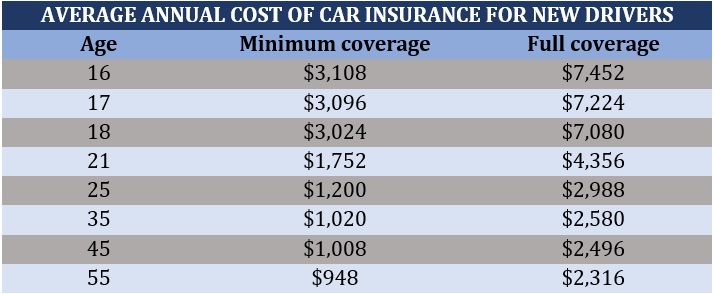 A guide to cheap car insurance for new drivers | Insurance Business America
Guides

A guide to cheap car insurance for new drivers
Cheap car insurance for new drivers can be difficult to find, but there are several ways to lower your rates. Find out how in this guide
New motorists tend to pay higher premiums as their inexperience makes them more likely to get involved in road accidents. That's why finding cheap car insurance for new drivers can be a difficult task.
But despite this, there are still several measures that young and inexperienced motorists can take to save on insurance costs. This is where this guide can help. Here, Insurance Business shares practical tips and strategies on how new drivers can access cheaper coverage. We will also explain the different factors that can drive up insurance rates.
If you just got your driver's license and are wondering how you can get affordable coverage, you've come to the right place. Find out how you can obtain cheap car insurance for new drivers in this article. 
When thinking about new drivers, teens are the first ones that come into mind. While this age group comprises a large percentage of what is considered as new and inexperienced drivers, there are certain demographics that likewise fit the bill. These include:
Motorists who just acquired their driver's license
Drivers with a gap in their auto insurance history or those whose coverage has lapsed
New immigrants
Foreign drivers
As these groups often have little to no driving history, car insurance companies tend to view them as riskier to insure compared to other types of motorists. This pushes up the amount they need to pay for coverage.
The tables below show how much car insurance costs for new drivers, according to age and driving experience. These figures are based on the different price comparison and insurer websites that Insurance Business checked out.
Cheap car insurance for new drivers – premiums by age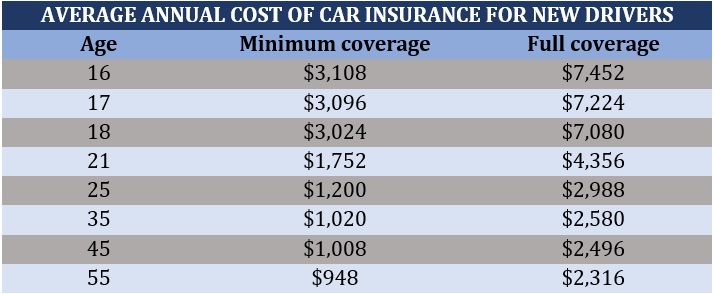 As you may have noticed, car insurance premiums are highest for drivers between 16 and 18 years old. This is the age group that insurers deem the riskiest to insure. Rates, however, tend to drop as motorists reach adulthood. After the age of 25, you can expect your premiums to go down considerably, but slightly rise again as you reach senior age.
On a side note, 16 and 17-year-olds are considered minors and, therefore, can't legally enter into contracts such as car insurance. Members of this age group are typically added to their parents' policies once they obtain their driver's licenses. This is unless their vehicles are registered under their names – because their parents can't get insurance for a vehicle that isn't in their name – or they have successfully petitioned for emancipation.
Cheap car insurance for new drivers – premiums by driving experience

Based on the figures above, full coverage premiums cost more than twice as much as those for minimum coverage policies, regardless of driving experience. However, motorists who have been driving for less than a year pay around 40% more for basic coverage compared to those with five years of experience.
Due to the high cost of car insurance for new drivers, it is often tempting to get bare minimum coverage to save on premiums. Industry experts, however, recommend purchasing full coverage car insurance if you can afford to, especially because your risk of getting into an accident is higher. 
If you're a new driver, you will have to pay higher premiums compared to those with more driving experience because of the risks you pose. There's just no way around it. However, there are several measures that you can take to reduce the amount you pay. Here are some simple and practical ways to access cheap car insurance for new drivers.
1. Shop around and compare quotes. 
Because car insurance premiums are based on a driver's personal circumstances, it is quite difficult to determine which policies offer you the biggest savings. Often, the quickest and most efficient way to find out if you're getting the best deal is to shop around and compare car insurance quotes.
By doing so, you can make a side-by-side comparison of not just the premiums, but also the features and benefits different auto policies provide. This allows you to find the policy that best fits your needs at the best possible price. Our latest car insurance comparison of the country's largest auto insurers lets you do just that.
2. Stay on your parents' policy.      
Joining a family policy is significantly cheaper compared to getting your own coverage. Depending on your age, you can slash up to 60% off your premiums by staying on your parent's policy.
However, you can only do so if you're under 25 years old and still living with your parents. But if the vehicle is registered under your name, there's no way around it – you need to buy your own car insurance policy.
3. Be mindful of the car you drive.
The type of car you drive plays a huge part in how much you pay for coverage. Typically, your insurer will factor in your vehicle's value, make, model, and age when calculating your premiums. If you choose a car with parts that are difficult to replace or one that's prone to theft, this has a corresponding impact on your auto premiums. So pick your ride wisely.
4. Choose a higher deductible.
Another simple way to get cheap car insurance if you're a new driver is to raise your deductible amount. This allows your auto insurer to carry less risk. However, you must ensure that your insurance deductible is at an affordable level as this is the amount you need to pay out of pocket before your insurance company picks the tab.
5. Take advantage of discounts.
Car insurers offer a range of opportunities for inexperienced drivers to slash premiums in the form of discounts. These money-saving perks can be based on different factors, including your driving behavior, performance in school, group affiliations, and the type of vehicle you drive.
One of the most common ways of getting cheap car insurance for new drivers is through multi-vehicle discounts, which you can be eligible for as long as you're living with your parents.
The table lists some of the most popular discount options that auto insurance companies offer young and inexperienced motorists: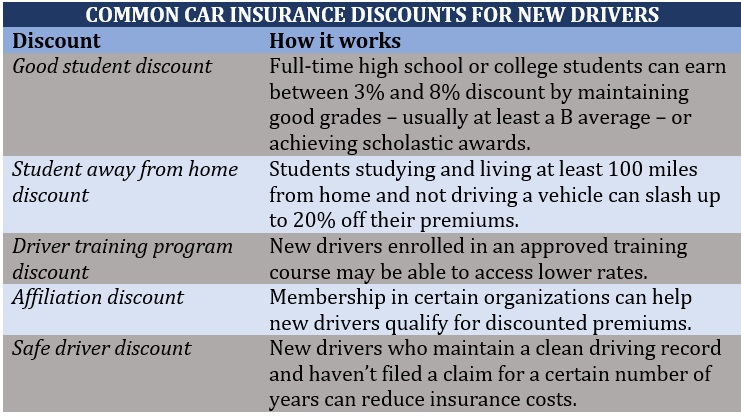 6. Drop the unnecessary coverages.
Auto insurance companies also offer several coverage options to give you the highest level of protection. Many of these optional policies, however, come at an extra cost. When taking out car insurance, it's best to carefully assess what car insurance types you really need. This way, you're not paying for coverage that you can do without. 
For example, if you're confident about your driving skills and consider yourself a safe driver, you can skip the accident forgiveness feature of your policy if this adds to your premiums.
7. Limit your mileage.
The more time you spend on the road, the higher your likelihood of getting into an accident. This can drive up your car insurance premiums. To keep your rates down, it can help if you use your vehicle only when it's necessary, if this is feasible. Signing up for pay-per-mile insurance can also help lower your costs as you'll only be paying for the time you spend driving.    
8. Consider usage-based insurance.
Usage-based insurance or UBI works with your insurance company adopting onboard technology or a mobile app, also called telematics, to monitor your driving habits. This technology then uses the information it gathers to reward you for your safe driving practices in the form of discounted premiums.
9. Pay your premiums annually.
Paying your premiums in one lump sum lets you avoid the interest and finance arrangement fees auto insurance companies charge those who pay in monthly instalments. And because this reduces the risk of missing payments, insurers generally reward policyholders who pay for coverage yearly with discounts. 
10. Practice safe driving.
One of the most effective ways to get cheap car insurance for new drivers is to maintain a spotless driving record. A clean driving history shows your insurer that you're a responsible driver who doesn't pose a risk to other motorists.
If you go for an extended period without filing an insurance claim, your insurer may also reward you in the form of a discount. A claims-free and clean driving record can help you slash between 10% and 25% off your annual premiums.
A driver's age is often correlated with driving experience, and along with gender, these three factors have a huge impact on your car insurance premiums. In general, the younger you are and the less your driving experience, the higher the likelihood of you getting into a collision. The statistics back this up. 
Considered the riskiest age group to insure, motorists aged 16 to 19 years old are almost three times more likely to get into fatal car accidents per miles driven than any other age group. This is despite teen drivers accounting for just 4% – the smallest demographic – of the entire driving population in the US. These are what the numbers from the latest fatality facts report from the Insurance Institute for Highway Safety (IIHS) reveal.
Data from the institute also shows that male drivers account for more than two-thirds, or 68%, of the overall teen crash fatality rate.
However, you will notice that your car insurance premium begins to drop after your 25th birthday. This will continue as you get older, as long as you have a clean driving record, and if you maintain a good auto insurance score.
Your premiums will continue to go down until you reach senior age when your rates start to gradually increase again. This is primarily because of age-related impairments rather than your driving habits. 
Because of the high cost of auto coverage for young and inexperienced drivers, it can often be tempting to go with an insurer that offers the cheapest premiums. This can be a risky decision as it may cost you more in the long run, especially if the coverage you obtain is not enough to cover the entire cost of an accident.
If you want the best coverage possible, it's important that you look beyond the price and assess if a policy offers the kind of protection you need.
Car insurance is one of the biggest expenses that comes with owning and operating a vehicle. But there are ways to lower your premiums. This guide on cheap car insurance gives you simple and practical tips on how to cut insurance rates. And if you'd like to see the bigger-picture view on how car insurance works, we've got a guide for that, too.
Can you think of additional ways to find cheap car insurance for new drivers? We'd love to read your tips in the comments section below.   
Related Stories
Keep up with the latest news and events
Join our mailing list, it's free!