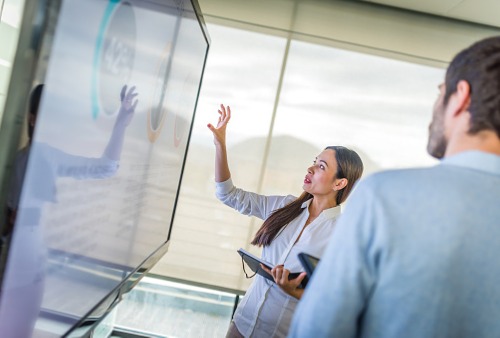 The first report examined executives' views on four major risk areas: technology, business, the environment, and political and economic risks. The report includes an assessment of how COVID-19 has impacted executives' sense of resilience and risk management skills.
The most important findings include:
Eighty-five percent (85%) of executives rate the current business environment as moderate to high risk. However, executives are most concerned about the technology and business risks that they find easier to manage.
37% (37%) of the classified technologies have the highest risk category for their company, followed by business (33%), politics and economy (18%) and the environment (12%).
Cyber ​​is the technology risk highest on executive concerns; However, they also feel ready to deal with it: 44% said they felt "very ready" to manage cyber risk.
The pandemic is also seen as high risk, but respondents also felt well prepared to deal with it. The pandemic risk falls into the environmental category that represents the lowest overall risk.
Respondents rated risks based on how important they were to their business and how resilient they felt to them. According to the report, companies want more insurance and risk management support for risks that fall into the high risk / low resilience categories. These include risks related to supply chain, business interruption, climate change, politics, law and regulation, disruption and disintermediation, and the environment.
Next read: Beazley expands telemedicine offering
Nine in ten respondents thought their company was either moderately (56%) or very (35%) resilient, and 85% said they would expect to see greater resilience in 12 months.
The study found wide variations in the risk resistance of different sectors, with the impact of the pandemic likely being an important factor in the mood of leaders. Sectors that felt more resilient than twelve months earlier include technology, media & telecommunications, financial institutions, and healthcare and life sciences.
Sectors that are feeling less resilient include hospitality and entertainment – one of the sectors hardest hit by the pandemic – and the public sector, including education.
"We conducted this research at a time when there has been significant change for almost every company and industry," said Lou Ann Layton, Beazley's head of broker relations and marketing. "The insights gained in this report help us to close knowledge gaps and build a better understanding in the insurance industry of what companies need from us now and in the future.
"As an insurer, we cannot rely on past perspectives on what our customers want or need. Understanding companies' risk appetite, where they feel most vulnerable and where they need our help to build resilience to a disorienting set of risk positions is critical to our ability to provide the value, expertise and services that our customers need. "
"One of the key takeaways from the pandemic is that, by and large, companies have survived, adapted and thrived," said Bethany Greenwood, Beazley's head of cyber and executive risk and interim co-chief underwriting officer. "Almost half feel more resilient than they did a year ago, and 84% are confident that they will be even more resilient in a year. This is incredibly positive given the challenges companies have faced over the past 15 months. "
However, Greenwood stressed that the effects of the pandemic were still being felt.
"When lockdowns end and government stimulus packages are withdrawn, companies need a clear view of their evolving risk positions," she said. "The insurance industry's role in helping clients proactively manage their less predictable and harder to quantify risks is even more important in building overall resilience."