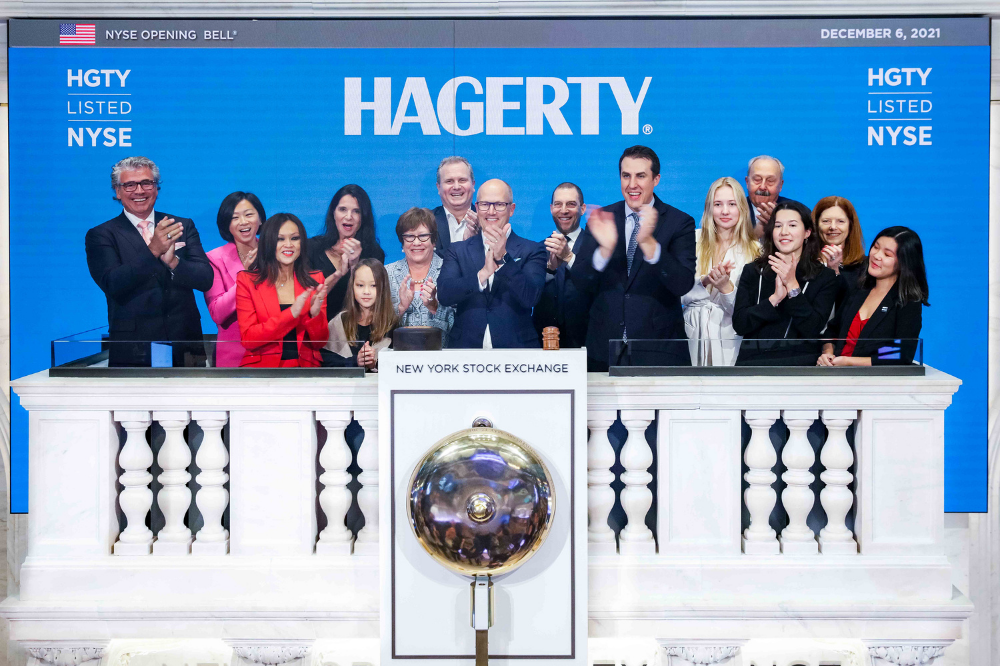 "Last week was a very special moment in the history of Hagerty," said Jack Butcher, President of Hagerty, who opened the first day of Hagerty trading on the NYSE on Monday with his colleagues at the ringing of the bells (pictured). December 6th. "Our employees have gotten rolling, we are all very proud of the company and receive fantastic feedback from our members and partners."
Hagty's fundamental goal is to "save the driving and car culture for future generations". To do this, the company switched from an insurance-based model to a membership model, with the idea of ​​promoting one of the world's largest communities of car enthusiasts. In recent years, Hagerty has expanded its portfolio of engaging and exciting events and services related to the car and connects with members digitally, on the track, in the garage, at events and on the go.
Next read: Hagerty is advancing the membership model for auto enthusiasts
Its portfolio of automotive offerings has grown significantly and now includes: Hagerty Drivers Club (1.8 million members), Hagerty Drivers Club Magazine (1.2 million readers), Hagerty YouTube (1.75 million subscribers), three major concours events, a nationwide collection of premium social and the car storage facilities called Hagerty Garage + Social; and DriveShare, a peer-to-peer service that allows people to rent vintage and cool cars.
This strong growth trajectory influenced Hagty's decision to merge with Aldel and become a publicly traded company. Butcher explained, "We knew that in order to truly pursue our vision and advance our mission, at some point we would need to access additional public capital. We thought it would be a few more years, but time and circumstances led us to the reality that now was the right time.
"The public capital structure really allows us to accommodate the fact that we are seeing more growth and allows us to continue pursuing the investment strategies we announced such as our events and Hagerty Garage + Social. We have to do this carefully. We have always been a very conservative company when it comes to this type of investment. This changes nothing. Honestly, I think we could see the quality of a [partner like] Aldel for the management discipline we put into our investments – and that strategy won't change. "
Hagty's SPAC merger with Aldel included a fully committed $ 704 million PIPE (private investment in public equity) deal led by strategic investors State Farm and Markel Corporation, which included a group of senior institutional and private investors . Butcher described the support of insurance giants like State Farm and Markel as "humiliating" and "exciting".
Continue reading: Hagerty Announces Merger Agreement
"Markel had already invested with us [prior to going public], and they are a very close trading partner of Hagerty. You have been an incredibly supportive partner to Hagerty and your renewed commitment to us means a lot to the company, "he said. "State Farm's [investment] was also a very humbling moment as they not only made a decision to invest with us but also made a trading decision to partner with Hagerty. We applaud this because … they are one of the largest auto insurers in the United States so we think this will be very helpful and certainly believable.
"And these are just two of the many partnerships we have. We built this company based on partnerships with the best auto insurers in the US, Canada and the UK. We are therefore pleased that you join these ranks or are committed to these ranks again. "
Despite expanding its lifestyle brand for the automotive industry, insurance still accounts for over 90% of Hagerty's revenues today, and Butcher emphasized that insurance operations will continue to be an integral part of corporate strategy.
"I can assure you that we have a growth strategy in this business and there are many insurance companies that we would like to continue working with," he told Insurance Business. "The bottom line is that we love insurance and as the company continues to grow, it is certain that the insurance part of Hagerty's business will continue to grow and grow. We're getting into these businesses that allow us to pursue our mission of saving driving – and these businesses make that possible, whether it's insurance or events or media, and they all complement each other.
"The nice thing about our leadership team is that we can look at a lot of things and keep track of each of Hagerty's many components. My main responsibility is to ensure that our robust insurance business continues to grow, that we continue to do business with the best partners, insurers and brokers, and that we provide a highly engaging model for policyholders who want to do business with us. This omni-channel presence is vital to us, and we must continue to invest in it, and we will. "
Looking ahead, and with a new capital structure, Butcher said he was "very encouraged" by History's relationship funnel – both in terms of building existing relationships and building new ones. He added, "I think you can expect more of this. We announced what the ecosystem looks like … it's an ongoing strategy. Because of our new capital structure, it's not a big bang and we are very happy about the support we have. "