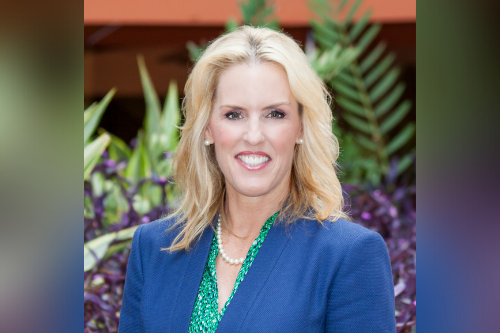 After graduating from college, Reeves took a job with an insurance agency where she was selected to participate in an educational Partnership Producer Program sponsored by The St. Paul Companies, now part of Travelers. She was the only woman of the 10 selected candidates and chose to focus her insurance and risk management education on the technology and life sciences sectors.
Next read: Marsh & McLennan Companies announce rebranding
In the early 1990s, the agency Reeves worked for was acquired by Marsh, where she honed her producer skills for over a decade before taking on a leadership role as Managing Director, San Diego Office Head & Pacific South Sales Leader in 2001. She stayed in that position until 2006 when she decided to "return to" [she] loved "and focus on selling again.
She joined long-time San Diego-based insurance broker Barney & Barney, where she led sales and helped the company more than double in size in seven years. In 2010 Reeves was named Chief Sales Officer for the West Region and four years later Barney & Barney was acquired by the Marsh & McLennan Agency (MMA). In December 2020, she was promoted to chief sales officer for the entire MMA organization, which is a wholly owned subsidiary of Marsh and serves the risk prevention and insurance needs of midsize companies in North America.
"When I think of my career as a salesman and former athlete, I am a very competitive person and I have always had a very strong work ethic. I think that's what made me successful in sales, "Reeves said. "When I was selling to 50-year-old men in my twenties who were taking out their insurance from their golf buddy, I really felt overwhelmed by them. I had to have excellent insurance knowledge to convince people to work with me.
"Now that I'm in a leadership role, my focus has shifted. It's more about strategy, about managing the changes in the market and about preparing our producers for success. A big part of my job now is talent development. It's not about being a lonely producer; It's about making our team of over 1,600 producers across the country as good as possible. "
The role of National Chief Sales Officer is a new position within MMA and reflects the company's broader strategy of building a nationwide presence of producers who are loyal to their local markets and who provide high-touch service to their customers while having access to Have centralized leadership, support, expertise, resources, and sales training and development.
"We are able to offer Fortune 50 services to our midsize customers – that is what sets MMA apart," said Reeves. "We are a very responsive organization and we offer our customers a wide range of value-added resources and services in addition to their insurance and benefit needs. We have a saying internally that "the best of both worlds" means that we want to be the local go-between and take care of the people in our local communities as they want, but we also have access to them Resources, technology, data and analysis from the world's largest broker. We have the best of both worlds and can deliver it to our customers. "
Continue reading: Top producers in 2021
In her new national position, Reeves has big plans for MMA, including a goal of doubling the company's sales in eight years, a goal she hopes to achieve primarily through organic growth. These ambitious growth plans require a close eye on talent development and recruitment, as well as the diversity, equity and inclusion (DE&I) initiatives that Reeves has advocated throughout her career.
A mother of two and a wife in the male-dominated field of insurance sales, Reeves has gone to great lengths to recruit and promote more women in producer roles. With the right mindset and the right support, it is "possible (if there is such a thing) to achieve a good work-life balance in the insurance industry".
In 2010, Reeves was instrumental in creating MMA's GROW (Growth, Relationships and Opportunities for Women) program, a women's initiative focused on attracting, retaining, educating and supporting women in the company. Since its inception, GROW has expanded significantly – both in terms of membership and the scope of personal and professional programs offered – and is now a major differentiator in why women choose MMA.
In recent years, MMA has also made great strides in the DE&I area and launched several Colleague Resource Groups, which in turn enable critical mentor and ally programs. Reeves added, "It has been shown that organizations that are more diverse tend to do better. We want to reflect the look of the communities and customers we serve and they were excited about the DE&I programs we launched. It's also vital for talent development and recruiting. People want DE&I, and they want to make sure that it's not just lip service, but that companies live it. "